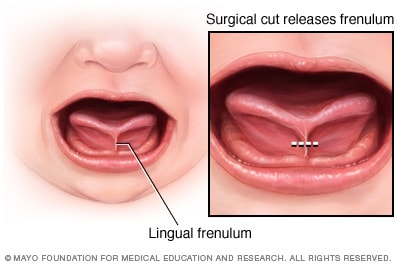 Glacier Dental offers a wide variety of services from routine hygiene visits to full mouth extractions and implant dentures. A unique service offered is reversal of tongue ties and lip ties. Glacier Dental was one of the first dental offices in Wisconsin to purchase a PerioLase, which is a laser used for suture free mouth surgeries. All three dentists at Glacier Dental are certified to use this laser for lip tie and tongue tie revisions.
Whether your a mom with an infant who is lip tied
or
an adult who is tongue tied, Glacier Dental works with any age. Dr. Steckbauer has performed this procedure on infants as little as one week old. The process is quick and the healing time is fast as well. In fact, many moms are able to breastfeed immediately after the procedure and will notice a much better latch and a happier baby!
Some dental insurance companies will cover this procedure as well as some medical insurances. We would love to do a complimentary benefits check for you at your initial consultation and if everything goes well, the procedure can be done same day as well. Please give our office a call and we'd love to reserve a spot for you with one of our certified Doctors! 235.3251